(version française)
~o~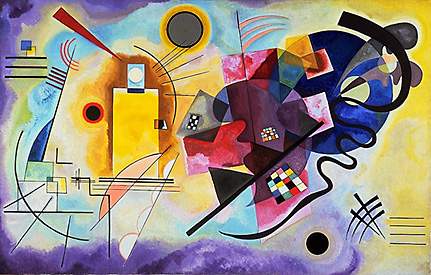 Yellow-Red-Blue, Wassily Kandinsky, 1925
~o~
Considered the founder of abstract painting, Kandinsky understood the painting as an "original plane", the blank canvas, on which he lays down shapes and colours according to defined building rules. These rules enabled the painting to meet some kind of "cosmic order" in tune with an "order" in nature. During his artistic investigation and experience, he also wrote plays, "theatrical canvasses" in which the actors were shapes, colours, movements and sounds.
Based on Kandinsky's work, Sophie Lavaud, a digital artist, offers to transform a painting of Kandinsky into a digital & 3D interactive scenography. This way, she gives the original painting components an interpretation in volume and behaviours, integrating these components into a 3D digital stage in which these virtual players interact with each other and with the user in order to reach a state of balance.
This project, named Matrice Active (Active Matrix), exists as a prototype model. I created it using the Virtools software during a training period for an Artificial Intelligence Post Graduate Diploma – "Shape Recognition and Applications" at the Paris 6 University (1).
~o~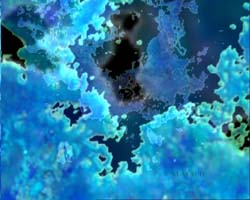 ~ Electronic Mandala ~
Sophie Lavaud
(1) DEA Intelligence Artificielle Reconnaissance des Formes et Applications

@Grenoble, La Villa Media, 2003